Mattress Cleaning Mosman Area
Taking care of your mattress is really important, we spend a lot of time sleeping on them so it's important to make sure that they are a healthy place to sleep and breathe. Mattresses accumulate a lot of bacteria and bugs over their life time, dust mites live within the mattress and over time, this can make mattresses an unhealthy place to be, especially when we breathe in the air from the fibres and any germs and allergens lurking within it.
Our professional mattress cleaning Mosman area team will work to cleanse your mattresses, removing any soiling and stains. Our team is fully trained and equipped to treat your mattresses for dust mites and other types of allergens which will help promote cleaner air. Mattress cleaning is important to ensure that your sleeping environment is a happy and healthy one.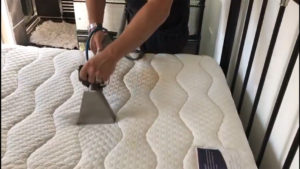 Regular mattress cleaning is necessary for:
Removing dirt and germs that accumulate in the mattress
Getting rid of stains on the mattress and ensure that any germs or odours are treated to ensure your mattress smells fresh.
Better breathing quality for when you are sleeping
Better respiratory health as a result of having a clean and bacteria free mattress
Increase the life of your mattress by using our services for mattress cleaning lower north shore based homes.
Professional Mattress Cleaning North Shore
Our experienced team uses the best technological equipment to target deep-rooted dirt and soiling embedded in your mattresses.
We have a range of products that our team use to remove stains that are engrained in the fabric. Our technology works deeply into the fabric to remove the stains and soiling from within the mattress. This method allows the cleaning agents to penetrate further, killing germs, cleansing more deeply, and tackling odours from their core. This achieves the best results in mattress cleaning and maintenance.
Regular mattress treatment can safeguard your family and guests against dust mites and other potential causes of allergies which grow and fester in the mattress. Breathing these in all night along can be unhealthy. Sleeping on a dusty or dirty mattress can increase or aggravate allergies both skin and respiratory. So don't wait to look after your mattresses and care for those who sleep under your roof.
Not only will regular cleaning take care of all the nasties in your mattress, it will also extend the lifespan of your mattress and allow it to support you during your sleep for a much longer time.
Let the professionals care for your mattress by having our team treat and refresh your beds. As always, your satisfaction is guaranteed. So get in touch for a competitive quote with quality that won't be beaten. We clean mattresses and sofa beds for a peaceful and assured night's sleep, for you, your, children and your guests.
We also suggest that you combine bed heads and surrounding upholstery when deciding to have your mattresses professional cleaned. This ensures the whole area is cleansed, as well as smelling and looking fresh.